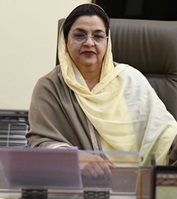 Dr. Shoukat Jeelani
MBBS, MS
Principal GMC, Anantnag
Previously
Professor & Head department of Surgery, GMC Sgr (9 Yrs 6 Months)

Faculty GMC Srinagar(16 yrs 06 months)

Publications: (20 publication on surgical topics in national and international Journals).
Contact Number: 9419015343
Address: Zakura, Srinagar
Mail: drshaukat jeelani@gmail.com
Fax: 01932-227624
Message
The creation of Government Medical College, Anantnag, as a concept, is a highly appreciated step in the right direction. Not only will it help the students from J&K, aspiring to obtain admission in MBBS, it will also improve health care delivery system and create awareness among people of state in general and the South Kashmir and its adjacent districts in particular. It shall also undertake research in diseases particularly affecting the local population and suggest measures as per the local requirement. It will also help in elevating health standards of the population and also in making the health programmes and eradication of diseases more comprehensive, focussed and need based. It will also generate employment among various cadres of educated unemployed like medicos, paramedics, technicians etc. and will provide reliable , secure and honourable means of livelihood to many and allow them to render services to the ailing people .
It will also generate employment for many in and around the medical college and associated hospitals and provide a sustainable means of livelihood to people not directly employed by Government Medical College, Anantnag. It will also bring District Anantnag on the map of medical colleges of the country.
I would like to express my gratitude on behalf of the faculty, Senior residents , Junior residents , paramedics , non medical staff of Govt. Medical College Anantnag to various known and unknown people who conceived the idea of GMC, Anantnag and gave it a practical shape by providing support of all kinds to make it a reality on ground.
I express my personal thanks to Hon'ble Advisor to his Excellency the Governor of J&K, K. Vijay Kumar for his keen interest in creating and cradling GMC, Anantnag .
Words fail me to express my sincere thanks to Principal Secretary to Govt., Health and Medical Education Department, J&K, Jenab Atal Dulloo, IAS for his exemplary and enthusiastic leadership, clarity of the purpose, constant encouragement and help for adherence to the time schedule.
Although this is the beginning and a long, arduous and time consuming path is to be tread before this project comes up as a pride among the medical colleges of the country .
I sincerely hope that the Govt. of India as well as the State Government will continue being liberal in funding the project and I expect the officers/ officials working in Govt. Medical College, Anantnag to work hard for this prestigious project to make it one of the best medical colleges of the country.
LONG LIVE GMC, ANANTNAG.